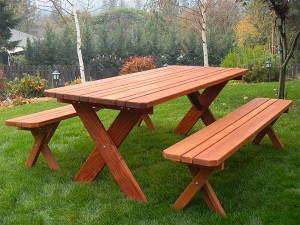 Your Walking Tall Redwood furniture arrives unfinished and ready to use. Before shipment, please contact us if you would like a finish applied to your product for a small fee. We use boiled linseed oil.
Redwood gives you legendary durability that holds up to the elements with natural beauty. You can let your redwood age gracefully, taking on a distinct gray-weathered look over time or, to keep the wood supple and the color bright, apply a sealer.
To clean, simply wet it with a hose and wipe it down with a rag and a bucket of plain water (no soap), then let air dry. Do not powerwash.
For a long-lasting, warm red appearance, you may want to apply quality redwood sealer to your unfinished product. We recommend Superdeck Semi-Transparent Waterborne Stain. This semi transparent stain accentuates the character of the wood and refreshes the familiar redwood color. It is widely available at hardware stores and online.
Redwood's unique cell structure lets it hold a finish better than other woods, so simply refinishing your redwood every year or two will assure years of service and protection from the elements and make your redwood furniture look its best and last even longer.
Redwood gives you years of care-free performance with heartwood that is distinctively elegant and naturally resistant to insects and decay. Year after year, redwood beauty endures.